Overview of the Company (Under Construction)
The Solomon Islands Electricity Authority was established, incorporated and constituted under the provisions of the Electricity Act 1969 (Cap 128)  and began operating as of 1st January 1969. In December 2015, the Solomon Islands Electricity Authority rebranded and began trading as Solomon Power. Solomon Power is the owner and operator of electricity supply systems in Solomon Islands, with principal activities to generate, distribute and sell electricity to the nation.
In 2007, another law was passed by the National Parliament, called the State Owned Enterprises (SOE) Act 2007. Solomon Power is one amongst 9 other SOE's operating in the country.
Section 4 of the SOE Act 2007 requires SOE's to operate as a successful business. Based on this, our principal objectives are to:
operate as profitable, and as efficient, as compared with business that are not owned by the crown
be a good employer
show a sense of social responsibility by having regard to the interests of the community in which it operates in.
In order to operate as profitable, and as efficient, as compared with business that are not owned by the crown, Solomon Power has invested in its capital expansion program by:
installing, operating and maintaining electricity supply systems that meet the needs of the connected customers in our ten locations ; Honiara, Gizo, Noro, Munda, Buala, Tulagi, Malu'u, Auki, Kirakira,and Lata.
Developing and implementing capital investment plans, to improve electricity system performance and increase the network coverage of agreed areas. Three new Hybrid systems are planned for three new locations in Taro, Seghe, Afio.
Looking at ways to recover its efficient costs of services at areas of its operations
Improving the efficiency of services, whilst improving reliability and availability to its assets.
As a good employer, Solomon Power ensures that:
well qualified and motivated staff are maintained
HR policies that treat employees fairly and properly in all aspects of recruitment, retention and employment are maintained, with good terms and conditions and that the Management works well with the Staff Association in dealing with the welfare and concerns of its staff.
a high level of safety throughout the organisation is promoted, with ongoing safety awareness program.
By carrying out its sense of social responsibility by having regard to the interests of the community in which it operates in, Solomon Power is building effective relationships with landowners, customer groups and interest groups that are affected by our activities. This is done by:
Improving performance and environmental reporting on issues that are caused by our electricity supply activities,
Incorporating sustainability into our business activities, and working to improve sustainable outcomes in terms of resources we manage
Pursue awareness campaigns in communities and schools around the country
Other Regulatory Function
Solomon Power is also mandated by the Electricity Act to perform the following regulatory functions:
Be responsible for the registration of Electrical Contractors. The current registered Electrical Contractors are listed here
Ensure that industries and contractors comply with the Electricity Act and the AS/ANZ Wiring Standards, by inspecting all electrical installations before connecting to Solomon Power mains.
Be responsible for the licensing of standby generators, Independent Power Producers (IPP) and Cogeneration of Power.
OUR CULTURE
Solomon Power's culture is shaped by our vision, mission and values:
Our Vision, Mission and Values
Our Vision
Energising our nation
Our Mission
To provide a safe, reliable affordable and accessible supply of electricity to the Solomon Islands.
Our Values
Respect for our Customers and our People Improvement through Change and Innovation Meeting our Service quality
Respect for our Customers and our People
Improvement through Change and Innovation
Meeting our Service quality commitments
Care for the Environment
Individual responsibility for our actions
Honesty and Trust
Teamwork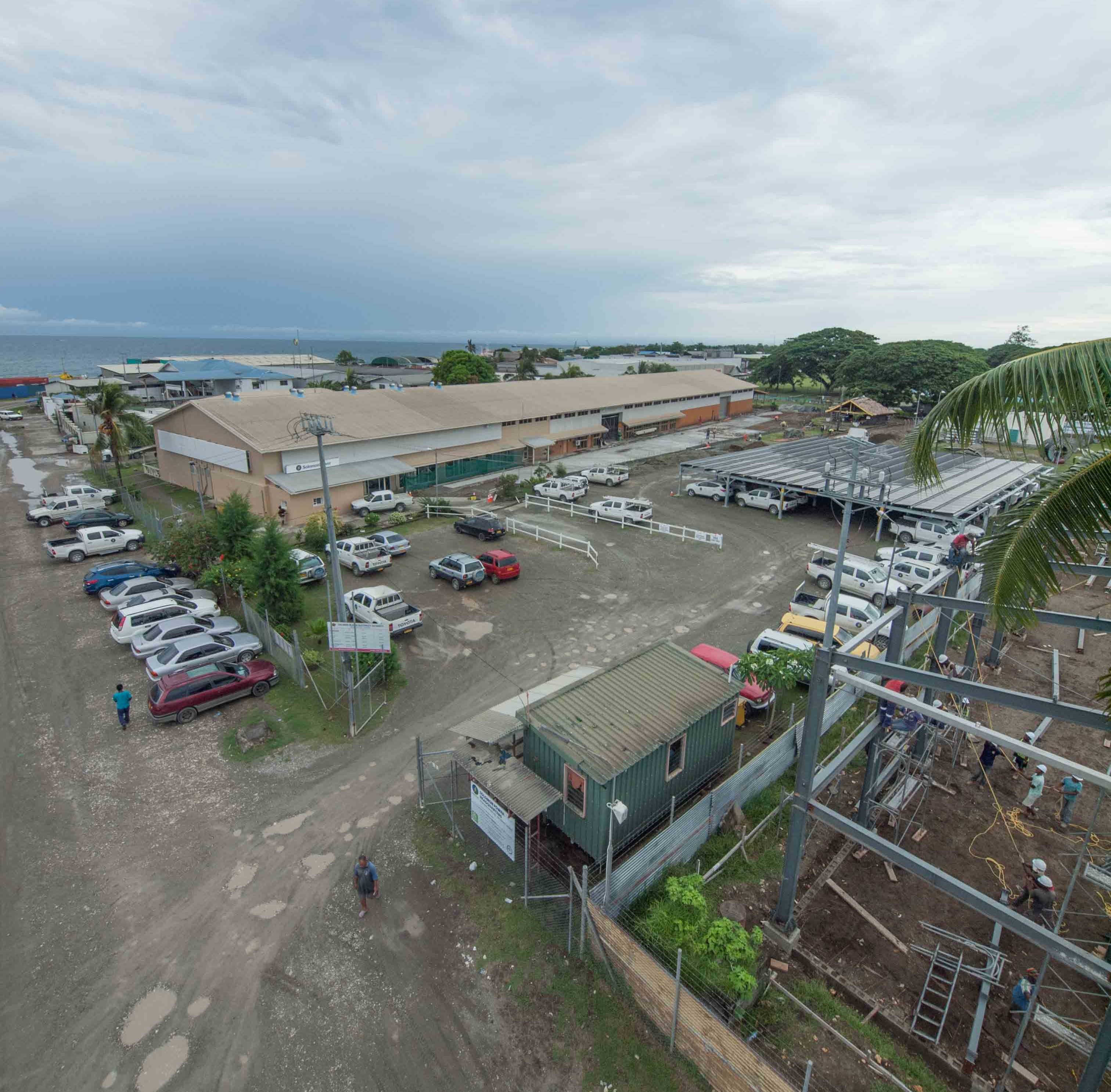 DEVELOPING AND SUSTAINING OUR CULTURE
Management has placed enormous efforts in promoting an environment which is conducive to developing and sustaining an enabling culture which is consistent with the values of Solomon Power. These include:
Instil and continual reminding our employees of our vision, mission and value statements at all training and presentations where employees are gathered.
Ensuring that all our new employees, casuals and temporary staff, including contractors and security personnel undergo induction training and job orientation.
Maintaining an open door policy whereby employees are encouraged to approach a manager or supervisor to discuss issues in an open, honest and fair manner without fear of intimidation or victimisation.
Providing customer service training for all our employees whereby each employee is encouraged not only to meet internal and external customer expectations, but to strive to exceed them within the framework of their responsibilities.
Having management and supervisory employees undergo professional change management training, whereby they are better equipped to bring about changes and improvements within their departments, to better facilitate our corporate objectives and mission.
Ensuring that all employees undergo training and awareness in terms of their job requirements and core responsibilities.
Putting in place an employee performance appraisal system that identifies improvement/training opportunities and rewards good performance through bonuses, remuneration and promotion.
Starting a library to encourage employees to read and expose them to latest technology and ideas.
Establishing a cafeteria at Ranadi Head Office where employees can take advantage of affordable meals that will sustain them throughout the work day.
Making available laundry facilities at the depot where work wear can be washed and kept clean for those who may have difficulty accessing water at their homes.
Equipping technical people with the appropriate tools, equipment, personal protective equipment and safety wear to enable them to perform their work efficiently, effectively and safely.
Ensuring that vehicles and drivers are safe by introducing an effective fleet management system and providing professional training to all SIEA drivers to minimise risk to themselves, their passengers and members of the public.
Purchasing of crane trucks to make the work of constructing power lines and lifting heavy loads safer and more efficient.
How do our employees communicate and engage?
As far as possible relevant information is shared with all the staff via the internal email system, share point and shared drivers, training/awareness programs and presentations as well as notices.
In addition, Solomon Power produces a monthly internal newsletter highlighting current events and other staff happenings; this is distributed free to each employee.  This is called WATTS Up.   Internet access is provided to employees to facilitate research, sourcing of equipment, supplies and services.
Weekly, we have a Management and supervisor meetings are held at the beginning of every week, and a separate weekly Management meeting where information flow to all levels of staff in the various departments through their representatives.
In terms of developing our policies, Management and staff are involved in the development of major policies that directly involve them, like the Personnel Policy and Procedures Manual, Fleet Policy Manual and OHS ( or Occupational Health and Safety) Policy and programs and are given awareness training on these to ensure a common understanding and smooth implementation.
Employees involved in technical works are trained to carry out on site risk assessments and to discuss the hazards, risks and the controls to put in place to mitigate or reduce on these risks and hazards.  High Voltage switching programs, Permits to Work in various high risk areas and Danger Notices, the company utilizes to inform employees where high risk work is being carried out, and what they can or cannot do. In these kinds of environment, teamwork and coordination amongst employees is emphasised.
Our People
Without quality staff, no business will produce the required output. Solomon Power recognises that its people are essentially the drivers of the business systems and processes, and to achieve optimum performance, the effective management of people is important. Successful Organizations recognize the critical importance for investing in their people and increasing their value to their organization. We believe the quality of our people provides us with our competitive advantage.
Our current total permanent staff for all locations is 246.
Solomon Power is an equal opportunity employer, and has zero tolerance on gender and racial discrimination.
In order to exercise transparency and maintain a consistent approach to how we manage our  human resources, Solomon Power has developed a comprehensive Human Resources Policies and Procedures Manual. This is compressed into one handbook. Every employee has a signed copy and is taken through training and thorough discussion to ensure everyone has mutual understanding and compliance on the job.
In terms of training and development, Solomon Power views its people as an investment and takes a huge commitment in the career development of all our staff, and also committed to the fullest possible use of their talents, skills and abilities to benefit the company and its customers. So, internal and external job related training is ongoing continuously. Solomon Power ensures a lot of money is budgeted for staff training, in order to certify and produce qualified and competent staff in our core technical areas.
To instill good team work principles and provide a forum where employees can get to know one another at a more personal level, a fun day team building event is held each year involving team challenges where employees not only participate but are rewarded for their efforts.  Departmental dinners are held to reward good performance on the achievement of a major project or accomplishment of sterling performance. An end of the year dinner is also held where members of the board and employees come together for a recap on the year's performance and a look ahead to projects for the new year, challenges, opportunities and goals and objectives for the coming year.
MEASURING OUR PERFORMANCE
How do we know our Corporate objectives have been achieved or not? We do this through the Performance Appraisals system we have in place. At the end of each year, Solomon Power formulates its Corporate Plan, with inputs from the Board, Management, Supervisory staff and invited external stakeholders, for the coming year.
Following that, Management and Supervisory staff have workshops to agree on their 5 departmental performance goals for the new year, which helps to achieve the corporate objectives.  These goals are linked to our values, mission and vision, which are linked to the principal objectives and linked to the Laws under which we operate under.
Upon achievement of all 5 goals, the department receives a bonus. Apart from departments goals, each individual is also appraised individually.
Individual appraisal is linked to how well an employee contributed to the achievement of the departmental goals within the context of: Job responsibilities, Customer services, Compliance and Team work.
So, throughout the year, progress and achievement of the goals are always at the forefront as we work.
Remunerating and increase in salary, is based on achievement of goals. This way, it makes everyone work hard and this is how we as an organization have been able to achieve our goals and objectives.